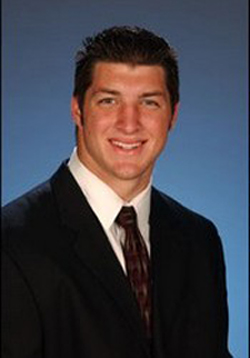 The 2008 Quaqua Protégé is Tim Tebow of Jacksonville, Florida. A graduate of home education, Tim is now an accomplished student athlete at the University of Florida, who is pursuing a degree in Family, Youth and Community Sciences. He maintains a grade point average in the 3.70–3.80 range and was honored during both 2007 and 2008 as an ESPN The Magazine Academic All-American of the Year winner (chosen by the College Sports Information Directors of America).

Tim is perhaps best known as the starting quarterback for the University of Florida Gators, where he has led the team to two Bowl Championship Series (BCS) national championships (2006, 2008) in NCAA Division I American football. He received the 2007 Heisman Memorial Trophy Award (also known as the Heisman Trophy or the Heisman), a prestigious annual honor presented by the Downtown Athletic Club of New York City to the most outstanding player in collegiate American football. Tim was the first player in history to win the Heisman as a sophomore. In 2007, Tim also garnered the Maxwell Award as the top football player in the United States, the Davey O'Brien Award as the nation's best quarterback, Walter Camp All-American status, the Associated Press College Football Player of the Year, Rivals.com Offensive Player of the Year, and the James E. Sullivan Award as the nation's most outstanding amateur athlete in any sport. Tim's extensive list of sports awards, championships, and accolades makes him one of the most decorated student athletes ever to play the game of American college football. A full list of his sports accomplishments, which is several pages long, can be found here.

Tim Tebow's contributions to home education and the world at large extend far beyond the gridiron. He has shown himself to be not only an elite athletic performer, but also a solid academic performer and involved civic participant who lifts the many lives touched by his influence.

Tim and his family are no strangers to overcoming adversity. He was delivered on August 14, 1987, in Manila, Philippines, to Robert ("Bob") and Pam Tebow, who serve as Christian missionaries. Prior to conception, Pam suffered a life-threatening infection with a pathogenic amoeba, forcing doctors to use extremely strong drugs to bring her out of a coma and treat her dysentery. Shortly after her recovery, Pam became pregnant, but doctors suspected she had a massive tumor and recommended an abortion to save her life. Pam overruled them and, despite a severe placental abruption, she carried the baby to term. Both Pam and Tim survived the close call.

When Tim was age three, his family moved back to Florida. However, Bob Tebow continues to maintain his twenty-four year Christian ministry in the Philippines, including running a home for orphaned children. All the Tebow children—Tim as well as his two older brothers and two older sisters—have been involved in summer mission trips to the Philippines sponsored by the Bob Tebow Evangelistic Association. One of the highlights of Tim's mission trips over the years was sharing his beliefs before 10,000 high school students in Digos, Mindanao. He also loves to visit the orphanage and spend time playing with the children.

All of the Tebow children, including Tim, were home-educated in the Philippines and Florida. Tim, who is now 6'3" tall and 235 pounds, came from an athletic family and was drawn to sports at an early age. At five years old, he was already begging to play organized sports like his two older brothers. The Tebows planned each child's education around their family values, character training, and the individual's learning style, interests, and goals. Each of the Tebow children has attended college on a scholarship. Tim was excited to follow in the footsteps of his four older siblings.

Fortunately, Florida has long had an especially large, active, and sophisticated home-education community. In 1996, a woman named Brenda Dickinson spearheaded a two-year battle in the Florida Legislature, culminating in a statute that allowed home-educated students to participate in extracurricular activities at public high schools, including athletic programs. The Craig Dickinson Act, named for Dickinson's late husband, provided that home-educated students could participate on the team of the local school in the school district where they resided. Public high-school athletic facilities would be treated like public libraries, public recreation centers, and other equal-access tax-funded government facilities. Without such a law, Tim Tebow would not have been permitted to participate in athletic competition. His career would have been permanently preempted by the same kind of discrimination that still afflicts home educators in many other jurisdictions to this very day.

But the Florida High School Athletic Association (FHSAA) remained a fierce opponent of the Craig Dickinson equal-access law. As Brenda Dickinson would later recall it, "Their stance was that home-schoolers had no right to take a [roster] spot from public school students that had, as they called it, paid their dues." Over the years, the Dickinsons, the Tebows, and the Florida home education community would counter by observing that the FHSAA had monopolized athletics to the exclusion of children that were being lawfully schooled at home, regardless of bona fide athletic or academic performance. The FHSAA wanted, on the one hand, to insist that home educators pay all the same taxes in support of public school athletic facilities and programs that were being incurred by other residents—without any tax credit or offset for alternative educators that could be used in support of private athletic programs for their own children—while simultaneously maintaining that home-educated athletes could not make use of those very same tax-supported public athletic resources.

Put another way, the FHSAA was advocating government-endorsed discrimination on the basis of religion and creed by selectively excluding students on the basis of their educational orientation. According to the FHSAA, a student like Tim Tebow could follow the dictates of his religious convictions and study at home, or he could pursue his love of athletics, but not both. And while opponents of alternative education professed to be deeply concerned about the best interest and "socialization" of home-educated students, they simultaneously opposed affording equal access to actual tax-sponsored social activities.

The controversy intensified when Tim Tebow elected to invoke the Act by transferring from Trinity Christian Academy—a Westside private school football team where Tim participated as a home-educated student in 2002-03—to the Nease Panthers, a public high school team where he played for the next three years. Tim was a linebacker and tight end at Trinity Christian, which utilized a rushing offense. At various times during his high school years, he also played football, basketball, and baseball, receiving numerous county and state awards for each sport. But Tim ultimately concluded that he wanted to play quarterback under Craig Howard, a Nease High School head coach known for prolific passing offenses. Tim and his mother moved into an apartment in nearby St. Johns County, thereby making him eligible to play for the football team at Nease, while continuing to pursue his full-time home education. As Tim's performance started turning heads, resentful rivals began to realize that the only way to stop Tim from scoring touchdowns was to keep him off the field entirely. Opponents bitterly complained to local politicians and sought to revoke his eligibility.

Fortunately, the Tebows and the home-education community fended off that effort. The rest was history, and Tim went on to become the Jackie Robinson of home education. As a junior at Nease, Tebow was named Florida's High School Football Player of the Year, an honor he repeated in his senior season. During his senior season, he also led the Nease Panthers to a state title, earned All-State honors, was named Florida's Mr. Football, received a designation as a Times-Union's 2005 Super 24 Player of the Year, and became a Parade All-American. Tim also played in the U.S. Army All-American Bowl Game in San Antonio, Texas, which features the top 78 senior high school football players in the nation and is shown nationally on NBC television.

Tim became a favorite with most everyone except opposing teams. He finished his high school career with 9,810 passing yards, 3,186 rushing yards, 95 passing touchdowns, 62 rushing touchdowns, and a variety of Florida state high school football records. These state records included most total yards in a season, most passing yards in a single season, and 71 touchdowns scored in a single season. Later, in 2007, he would be named to FHSAA's All-Century Team that listed the Top 33 football players in the state of Florida's 100-year history of high school football. Known for his tenacity, endurance, and competitiveness, Tim even finished out one game on a broken leg.

Tim began receiving national attention through write-ups in Sports Illustrated, where he was featured as the All-American high school quarterback, an ESPN broadcast of his August 27, 2005 game against Hoover High School, and his selection as an Elite 11 quarterback. As a high-school senior, Tebow was recruited as one of the top college quarterback prospects in the entire United States. He became the focus of an ESPN "Faces in Sports" documentary, in a segment titled "Tim Tebow: The Chosen One." ESPN focused on Tim's home-education controversy, his athletic exploits, and the last three summers that Tim had spent assisting his father in the Philippines with orphanage and missionary work. He was also featured on the Sports Illustrated "Faces in the Crowd" page.

During the recruiting process, Tim narrowed his choices to the University of Alabama and Coach Mike Shula or the University of Florida and Coach Urban Meyer. Florida gained the edge because, among various reasons, Coach Meyer ran a spread option offense that would enable Tebow to play as a prototypical quarterback. Tim also had family ties to the University of Florida, which is where his parents met as college students and is close to near Tim's hometown.

Tim Tebow became known as a "dual threat" quarterback, meaning that he can adeptly rush and pass the football. On any particular play, opposing defenses cannot be sure whether to commit more players to secondary coverage against a pass, or to keep more players close to the line to stop a quarterback run that may suddenly emerge out of nearly any formation. Tim has the size, speed, and strength to run like a running back, but the arm strength and accuracy to throw pinpoint passes to other offensive players located anywhere on the field. His playing experience on both offense and defense has helped him develop a thorough understanding of football strategy and tactics. Finally, Tim is known as a charismatic leader on the field who instills confidence, poise, competitiveness, camaraderie, and proper tempo, thereby bringing out the best in his teammates.

While a freshman with the Florida Gators, Tebow was a reserve quarterback who played in tandem with senior starting quarterback Chris Leak. Tim scored a rushing touchdown on the first play of his college career in a game against Southern Mississippi. Throughout the season, Tebow was deployed to change the pace and dynamic on offense when the need arose, especially in critical games against opponents such as the University of Tennessee and Louisiana State University. Often his services were pressed into action for short-yardage and goal-line situations—where the quarterback needs to run or present a pass-option threat—or at junctures when Chris Leak needed a rest during the course of a physically-punishing season. It was during the 2006 season that Tebow first became famous for the "jump-pass," a now-iconic maneuver. A player feigns diving across the line, leaps vertically into the air, and then tosses the football forward to a receiver in a manner resembling a basketball jump shot. The Gators won the 2006 national college football championship by defeating Ohio State in the 2007 BCS National Championship Game.

As a sophomore during the 2007 season, Tebow became the Gators' starting quarterback. Commentators entertained preseason doubts about his ability to mount a full-spectrum passing attack, but those reservations quickly dissipated. Tim broke the Southeastern Conference records for rushing touchdowns and also for total touchdowns in a single season. He became the only player in NCAA Division I history with at least 20 rushing and 20 passing touchdowns, and tied the all-time Division I mark for 22 rushing touchdowns by a quarterback in a single season. In addition to the Heisman Trophy, his performance in 2007 also earned him the Maxwell Award, the Davey O'Brien Award, and the James E. Sullivan Award.

Play in the Southeastern Conference is intensely competitive. Tim took a physical pounding while leading his team through a successful season, and he played much of the season with a severely-bruised shoulder. On November 24, 2007, against Florida State, Tebow threw for three touchdowns and rushed for two in a 45-12 Gator rout of the Seminoles. It was later revealed that Tebow fractured his right hand during the third quarter but played out the rest of the game anyway (he is left-handed). He had to wear a cast for the next three weeks. Although the Gators finished the season with a 41-35 loss to Michigan in the 2008 Capital One Bowl, Tebow maintained his record for achieving at least one rushing touchdown and at least one passing touchdown in every game played, and he raised the record for total touchdowns in a single season to 55. He played Michigan with a soft cast to protect his mending right hand.

Tim Tebow's 2008 season began with a jolting setback. On September 27, 2008, Tim and the Gators turned in an atypically poor performance, losing at home to an inspired Mississippi team by a score of 31-30. In a now famous moment, Tim apologized on national television and vowed to do better. "I'm sorry. I'm extremely sorry," he said. "We were hoping for an undefeated season. That was my goal, something Florida's never done here. But I promise you one thing: a lot of good will come out of this. You have never seen any player in the entire country play as hard as I will play the rest of this season and you'll never see someone push the rest of the team as hard as I will push everybody the rest of this season, and you'll never see a team play harder than we will the rest of this season. God bless."

Tim Tebow and the Gators overcame the adversity and proceeded on to a 12–1 record in 2008. On November 1, 2008, playing against the University of Georgia Bulldogs, Tebow ran for his 37th rushing touchdown, breaking the school record previously held by former Florida running back Emmitt Smith. After clinching the Southeastern Conference Eastern Division title, the Gators won the 2008 Southeastern Conference Championship Game against the then-undefeated University of Alabama Crimson Tide. The victory secured a #2 ranking for Florida in the final BCS standings, opening an opportunity for the Gators to play the #1-ranked University of Oklahoma Sooners in the 2009 BCS National Championship Game. Over the course of the season, Tim had stormed back from disappointment to emerge as a leading contender for the 2008 Heisman Trophy, and his Gator team had resurrected their prospects for a BCS National Championship.

The Heisman Trophy vote on December 13, 2008, was one of the closest in history. Tim Tebow was positioned to become only the second person in history to win two Heisman Awards. He did receive the most first-place votes, but the Heisman uses a cumulative voting system that awards 3 points for each first place vote, 2 points for each second place vote, and 1 point for each third place vote. University of Oklahoma quarterback Sam Bradford won the Heisman with a cumulative point score of 1,726, University of Texas quarterback Colt McCoy received 1,604 points, and Tim Tebow garnered 1,575 points. To many neutral observers, the tallies suggested a pattern where many opponents of Tim had conscientiously refused to vote for him as either a second or third choice, thereby causing Tim to narrowly lose the cumulative point score even though he collected the most first-place votes. Indeed, Oklahoma cornerback Dominique Franks subsequently claimed Tebow would not even be the third-best quarterback in the Big 12 Conference. However, Tebow did win the Maxwell Award in 2008—a somewhat similar honor with a different selection process—becoming only the second player to win that award twice.

On January 11, 2009, the question was resolved on the football field. Tim Tebow, the 2007 Heisman winner at the helm of the #2-ranked Florida Gators, faced off against 2008 Heisman winner Sam Bradford and the #1-ranked Oklahoma Sooners. In a game rich with interesting background stories, the Gators won the BCS National Championship by a score of 24–14. Most observers agreed that Tebow outperformed Bradford during the confrontation, as measured by both overall statistics and clutch performances during critical junctures of the game. Tim noticeably carried the offense—both in the air and on the ground—during important stretches when the Gators needed a game-breaking effort. He even threw one of his famous "jump passes" to secure a critical touchdown. Had the Heisman been awarded on January 12 instead of December 13, it seems highly likely that Tim would have received his second Heisman.

Fortunately, Tim has one more opportunity to try for a second Heisman Award and a third team national championship. Rather than enter the National Football League draft early, Tim has decided to return as senior quarterback for the Gator's 2009 season and graduate from college. Professional football and college football are very important to Tim, but faith, family, and academics precede sports as priorities in his life.

"From being a lot of places with my dad on mission trips, you kind of find out what true pressure is and what is just a game," Tim Tebow says. "Even though we love it so much, football is just a game. A lot of people bleed over it and love it, and I'm one of those people. But at the end of the day, I know what's more important, and football is not more important than life, and pressure is definitely not football. So I think when you can put that in perspective, I think it really gives you a much better outlook."

As an active member of Goodwill Gators at the University of Florida, Tim Tebow has volunteered his time with the Children's Miracle Network at Shands Hospital. He keeps a poem on his bulletin board that reminds him of an athlete's accountability to be a role model for the little boys who want to be just like him. He also makes an effort to speak at local elementary schools, greet young fans at his games, and visit sick teens in the local hospitals. In 2008, he received the Disney Spirit Award, given annually to college football's most inspirational figure. Even after finding fame, Tim has continued to ably stand for the values, beliefs, and causes in which he has always believed.

Whatever else may cross Tim Tebow's path in the future, he has already accomplished a great deal and profoundly improved the world around him. Each time he drives his team down the field for a touchdown, receives an award, or sits for an interview, millions of television viewers are dramatically disabused of outdated stereotypes about home educators. The public is repeatedly brought face-to-face with the reality that home education graduates—if given a fair and equal opportunity—are capable of exhibiting the highest level of leadership, teamwork, athletic ability, social aptitude, and civic involvement. Home educators will continue to achieve excellence in every field of human endeavor.

Quaqua's founding principle is that people often need to see a stirring tangible example before they will embrace a higher abstract ideal. Tim Tebow has been an effective friend of home education, both in word and deed. After becoming the first home-educated athlete to be nominated for the Heisman Trophy, he remarked to a writer, "That's really cool. A lot of times people have this stereotype of homeschoolers as not very athletic–it's like, go win a spelling bee or something like that–it's an honor for me to be the first one to do that."

Tim Tebow's example has inspired equal-access supporters in Alabama to introduce a bill in the Alabama Legislature called the "Tim Tebow Bill." Similar efforts have rapidly spread to Kentucky, Utah, and many other states. The movement is promoting state legislation that would allow home-educated athletes across the nation to play for their local high school teams, just as Tim did in Florida.

The Quaqua Society is pleased to honor Tim Tebow as the college-bound student who has best demonstrated the excellence of home education in action. The Society anticipates that he will continue to make many important contributions to home education and the general society for years to come.


This Quaqua sketch borrows heavily and directly from biographical profiles, web information, and press releases provided courtesy of, as applicable, the Bob Tebow Evangelistic Association; the University of Florida; Timtebowfans.org; and Wikipedia. Additional photographs, statistics, accounts, and video clips concerning Tim Tebow are available from these sources. The Quaqua Society expresses appreciation to these organizations for the information provided.


---
2007
---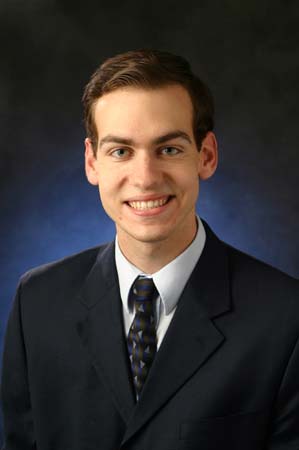 The 2007 Quaqua Protégé is Matthew du Mée of Phoenix, Arizona. A home education graduate, Matthew is now attending the prestigious Harvard Law School at Cambridge, Massachusetts. He earned a perfect score of 1600 on the Scholastic Aptitude Test (commonly known as the SAT Test, now known as the SAT Reasoning Test) and later scored a 179 (out of a possible 180) on the Law School Admissions Test.

Matthew is an Editor for both the Harvard Law Review and the Journal of Law and Public Policy. During his law-school experience, which is still ongoing as of this Protégé Award announcement, Matthew has been named a winner of the Williston Negotiation Competition and has participated as a member of the Willem C. Vis International Commercial Arbitration Team.

As an undergraduate, Matthew attended Patrick Henry College at Purcellville, Virginia, on a full scholarship. In May 2005, he completed a Government-Public Policy baccalaureate degree, summa cum laude. He earned a 3.93 grade point average, was named Outstanding Male Leader of the student body, and received the Patrick Henry Oratory Award.

Debate and moot court competition receive special emphasis at Patrick Henry College. Matthew was a star member of the school's various teams. He was a Transatlantic Moot Court Champion in two competitions against Oxford University from 2004-05. He took First Place Brief award in the 2005 American Moot Court Association National Tournament, First Place Speaker in the 2005 Notre Dame Parliamentary Debate Tournament, and National Champion in the 2004 National Educational Debate Association competition. Participation in the 2004 Moot Court Eastern Regional Tournament yielded an award for First Place Speaker and First Place Team.

Floreat Domus, the news publication for Balliol College at the University of Oxford, described Matthew as being in "top form" during his 2005 Transatlantic Moot completion. Lord Hutton and Lord Bingham of Cornhill, who both judged the final event in England, were particularly impressed that Matthew performed so well in moot competition as a pre-law undergraduate student.

Matthew's record also reflects a deep interest in public and community service. As a 2008 Summer Assistant for the Maricopa County Attorney's Office, he assisted with trial preparation and legal document drafting needed to prosecute homicides. He answered citizen calls as a White House volunteer in 2005. In 2004, he performed research and constituent service as a paid intern for Congressman Trent Franks, including an effort aimed at expanding educational choice. From 2005-07, Matthew served at various times as Legal and Policy Aide with The Center for Arizona Policy and as Executive Director of the Citizens for Arizona Policy. During that same 2005-07 period he also ran two political action committees, drafted bills, lobbied legislators, registered voters, and testified before a State Senate committee.

Helping others to excel has also been a hallmark. From 2006-07, Matthew was a part-time Debate Coach for a class of forty high school students who were learning about public policy and public speaking. He created and facilitated a debate tournament for the students. Matthew also was an Assistant Coach for the Patrick Henry College Debate Team, including management of the trips, meetings, and budget. In addition, he served in various capacities with AWANA, an international evangelical Christian club organization for elementary and high school age students. He capped off a decade of AWANA service with a stint as AWANA Commander in 2006-07.

Matthew du Mée has expressed an interest in public service, perhaps ultimately in Congress or the White House. In the near term, he looks forward to working with law firms and prosecutors in Phoenix. "My chief goal though," he has said, "is to do all that I do with excellence, and do it for the glory of God."

Matthew's record is one of exceptional and objective accomplishment. "As one who was home-educated in Arizona," Quaqua founder Daniel E. Witte noted, "and as one who had a similar interest in law review, moot court, and politics, it is particularly exciting for me to see Matthew du Mée receive the Protégé Award."

To put a twist on a famous phrase, a threat to liberty anywhere is ultimately a threat to liberty everywhere. With the growth of home education around the world, home education and parental liberty will continue to require a vigorous defense from articulate legal professionals. Escalating challenges may arise in the international law arena, the courts of Europe, and various institutions governing other global jurisdictions. The Quaqua Society lauds home-educated graduates of all backgrounds who prepare to serve as effective advocates for parental liberty and educational choice.

The Quaqua Society is pleased to honor Matthew du Mée as the student who has best demonstrated the excellence of home education in action. The Society anticipates that he will continue to make many important contributions to home education and the general society for years to come.


---
2006
---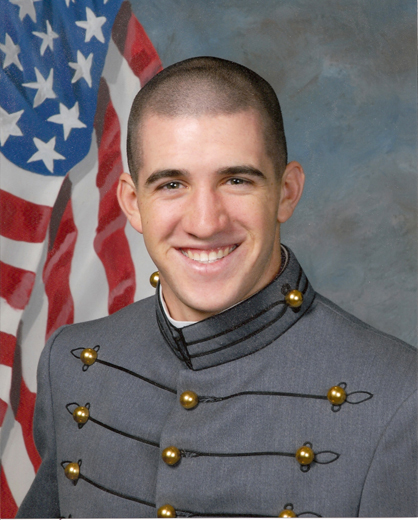 The 2006 Quaqua Protégé is Joseph Byron Lambert of Temecula, California.  A graduate of home education, Joseph is now attending the prestigious United States Military Academy at West Point, New York.  He was one of 1,200 freshman selected from an applicant pool of about 12,000.

Joseph was nominated by Congressman Darrell Issa to attend both the United States Military Academy and also the United States Naval Academy.  He chose the Military Academy and plans to major in engineering.  His admission was the culmination of a longstanding dream to "to serve and defend my country."  Joseph's interest in joining a service academy (and eventually, a military special forces unit) originally arose because he "want[ed] to fight for freedom and liberty around the world to keep my family and friends safe."

Exceptional academic performance is crucial for admission to a service academy.  During his high-school age years, Joseph was enrolled with Sierra Springs Christian Academy followed by Calvary Chapel Christian Academy in Murrieta, California, both home education support groups. .  In 2006, he was named to the National Honor Roll and the National Society of High School Scholars.  Joseph also participated in the 2006 Naval Academy Summer Seminar (NASS).  He also took science and math college courses at Mt. San Jacinto and Palomar colleges.

Military service academies also prefer applicants with a record of demonstrated athletic ability, team participation, and leadership acumen.  Joseph, who is 6'3", earned a varsity letter as starting lineman on his football team.  In the process, he received accolades from his coach for an exemplary work ethic, and he won the Scholar-Athlete Award from the Riverside Chapter of the National Football Foundation.  Joseph also earned a varsity letter in track and field, specializing in shot put and discus.  He participated in weight training, earned a black belt in karate, and was a karate instructor.

Joseph also has been a leader in his school and community.  As President of the Associated Student Body for Calvary Chapel Christian Academy, he helped transition the organization to a student-led approach and more than doubled student attendance.  He was a member of the Church Leadership Team for the Stone Creek Bible Church in Temecula and participated in 1000 hours of church-sponsored community service in his high school career.  Joseph grew up in a family that emphasizes having a "servant's heart" and advocates living a "lifestyle of service" rather than a "country club lifestyle."

Joseph has many other interests.  He personally designed and built the furniture for his bedroom, and taught classes about woodworking.  He has also given many public speeches for Toastmasters and on occasion has even participated in theater.

Joseph is known for his perseverance, self-discipline, work-ethic, and commitment to excellence.  Those traits are likely to serve him well as he undergoes the extremely rigorous training regimen at West Point, serves a required five years of active military duty, and then completes three years of reserve duty.  His achievements demonstrate that home-educated graduates are gaining increasing access to professional military opportunities and are achieving excellence in the process.

The Quaqua Society is pleased to honor Joseph Byron Lambert as the college-bound student who has best demonstrated the excellence of home education in action. The Society anticipates that he will continue to make many important contributions to home education and the general society for years to come.


---
2005
---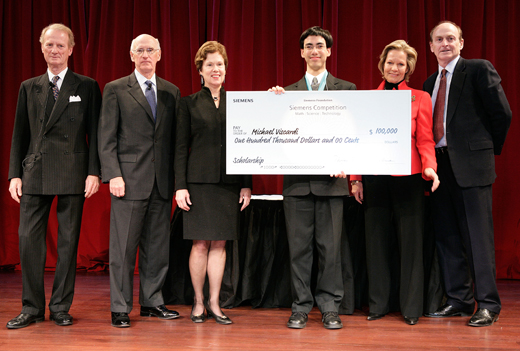 The 2005 Quaqua Protégé is seventeen-year-old Michael Viscardi, a home-educated student from San Diego, California.

Michael was the 2005 National Individual Grand Prize Winner of the prestigious Siemens Westinghouse Competition for his mathematics research with real-world engineering implications. He received a $100,000 scholarship for his research paper, entitled On the Solution of the Dirichlet Problem with Rational Boundary Data. According to Siemens' official website, Michael's research offers solutions in complex analysis relying upon use of "rational functions," which are particularly amenable to computer implementation. "Mr. Viscardi dazzled us with his creative use of the mathematical language," said one judge, Dr. Steven Krantz, a Professor of Mathematics at Washington University in St. Louis. "His research is profound, substantial and complete, with potentially important practical applications in heat flow, magnetism, electrodynamics and other branches of physics. One important and exciting potential application of his work is in designing the shape of airplane wings." Michael's paper was published in COMPUTATIONAL METHODS AND FUNCTION THEORY, Vol. 5, No. 2, 2005. .

Michael's mathematical prowess is the product of natural talent combined with hard work. In 2004, he earned a perfect 1600 on his SAT by answering every question correctly, along with an 800 on the Writing Subject Test. He has received numerous honors at MATHCOUNTS and various other mathematics competitions. As an 8th grader he won first place at both the Chapter and State levels of MATHCOUNTS and became a scholarship member of the 2003 National Championship Team. He was subsequently invited to the White House Oval Office to meet President Bush. Michael has qualified to take the USA Math Olympiad for the last 4 years and was invited to the Math Olympiad Summer Program in 2004. He composed a correct proof that was acknowledged and published in the January 2004 issue of AMERICAN MATHEMATICAL MONTHLY.

Since 2002 Michael has been taking mathematics courses, including graduate-level core courses, at the University of California, San Diego. He has earned straight A's in every school or college course he has taken since 8th grade in mathematics or any other subject. Last November he was a guest speaker for a 1-hour address at the UCSD Math Department Seminar in Real Analysis. His second math research paper, entitled An Explicit Solution to the Dirichlet Problem with Rational Holomorphic Data in Terms of a Riemann Mapping, has been submitted for publication. Michael is currently continuing math research at UCSD with his mentor, Professor Peter Ebenfelt, to work on the Pompeiu problem, an unresolved conjecture since 1929.

In addition to mathematics, Michael excels in music (piano, violin, and composition) and enjoys writing fiction. He has been playing violin for 6 years and piano for 10 years, and currently studies violin with Hernan Constantino and piano with Dana Burnett. At age 11 he won Grand Prize on piano at the Collin County Young Artist Competition and soloed with the Plano Symphony Orchestra. Last year, he won 1st place at the MTAC Concerto Competition on violin and soloed with the Civic Youth Orchestra at Copley Symphony Hall. Michael also won first place in the Senior Piano Division of the 2005 Goodlin Competition, including the Chet and June Schmidt Scholarship Award. He was a winner of the keyboard division of the 2005 Musical Merit Scholarship Auditions and became a Fenstermaker scholar. Additionally, Michael was invited to solo on violin with the San Diego Chamber Orchestra in 2005 and 2006.

Michael is the concertmaster of the San Diego Youth Symphony (SDYS) and Philharmonia for the 60th anniversary season of the 6th oldest youth symphony in the nation, and holds the Jeffrey Dan Sollender Concertmaster's Chair. He is also the first violinist in the La Jolla Trio and Ensemble. In June 2006, Michael will solo with the SDYS on piano at their season finale concert at Copley Symphony Hall, playing George Gershwin's Rhapsody in Blue. Michael loves to compose and conduct, and has been taking the SDYS conducting class with Artistic Director Jeff Edmons for the past three years. Michael has been very active performing on piano and violin at various community fundraising events, which he enjoys immensely. His list of other performances, awards, and distinctions in music is extensive.

Michael's list of accomplishments will likely continue to grow. In 2006, he was named a National Merit Scholar and a Presidential Scholar Candidate. He was invited to meet President Bush again this year at the White House as a National Finalist in the Intel Science Talent Search. He won 1st place at the 2006 Southern California Junior Science and Humanities Symposium, and was a Sweepstakes Winner at the 2006 Greater San Diego Science and Engineering Fair. He also recently won the Best of Category Award in Mathematics at the 2006 International Science and Engineering Fair. He has been highlighted as "Person of the Week" on ABC World News Tonight, selected as one of Teen People Magazine's "20 Teens Who Will Change the World," chosen as one of "The Fast 50" by the national business magazine Fast Company, and featured in Mathematics People Notices of the AMS, Vol. 53, No. 3, 2006. In 2006, he was also selected as one of 20 members of the 20th annual USA TODAY All-USA High School Academic First Team.

Michael was born in Plano, Texas, and moved to San Diego, California, in 8th grade after living for two years in Tokyo, Japan. Michael, a graduating junior, was accepted Single Choice Early Action to the Class of 2010 at Harvard College, and was accepted to the New England Conservatory on both piano and violin. He was also recently admitted to the Harvard/New England Conservatory 5-year Joint Program, which takes no more than 4 incoming freshman each year. This fall he will major in Mathematics at Harvard, and will concurrently major in Violin Performance at the New England Conservatory, studying under Prof. Masuko Ushioda.

The Quaqua Society is pleased to honor Michael Viscardi as the college-bound student who has best demonstrated the excellence of home education in action during the past year. The Society anticipates that he will continue to make many important contributions to home education and the general society for years to come.


---
2004
---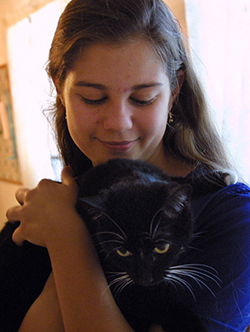 The 2004 Quaqua Protege is sixteen-year-old Crystal Rosalie Senko, of Port Orange, Florida (near Daytona Beach). Crystal has never attended public school, and her two younger brothers are also home-educated according to what is commonly called the "ecclectic" pedagogical tradition.

Crystal recently achieved a perfect score of 1600 on the SAT test and answered every question correctly. She has also performed well on other standard examinations, including the SAT II, where she scored 800 on Math IIC, 800 on Writing, and 790 on Physics. She is a Presidential-Scholar candidate.

As one might expect, Crystal's scholastic preparation has been rigorous. She has been taking college courses since age twelve. She enrolled in Stanford University's program for gifted youth and has already completed Honors AP Calculus 3-term series, AP Physics 2-term series, an optics and thermodynamics college course, a modern physics course, and two computer programming courses. She has also taken classes at her local Daytona Beach Community College, including astronomy, college composition, literature and composition, history of western civilization, developmental psychology, and music appreciation.

Crystal has self-taught herself two-years of Latin. As an avid student of the United States space program, she has read extensively about the history of the Mercury, Gemini, and Apollo programs. She has also read every book she could locate that was authored by astronauts, flight directors, and other participants of early space exploration. Mathematics is her favorite school subject.

Crystal's interests include music and dance. She took eight years of lessons in tap, ballet, pointe, jazz, and lyrical performance. She has competed as part of the Prima Dance Studio's junior dance team in Corona, California, performed as a solo dancer at an Ormond School of Ballet Concert, and performed at a charity ball to benefit the American Lung Association (Oxygen Ball). She sometimes plays the Celtic harp at cocktail parties.

Chess is another passion. Crystal won a 12th Grade "1st Under 1000" trophy at the National K-12 Chess Championships, was the Top 12th Grade girl in Florida from SuperStates II: Florida Scholastic Chess Championship, and led a four-person team at the United States Amateur Team South. She participates in three different chess clubs, teaches chess to home-educated students, and volunteers at Chess Camp at The Museum of Arts and Sciences at Daytona.

Other interests include forensics, butterfly study, ancient history (Greek, Mayan, Chinese, Egyptian, Inca, Aztec, Roman), cats, dog training, repairing pinball machines, and reading. Crystal enjoys the fantasy and science-fiction genres, including the Harry Potter series. Crystal also had a unique opportunity to learn first-hand about meteorology when three hurricanes swept through her neighborhood during a six-week period in 2004.

Senko has always demonstrated a bright streak. She could read sentences before she was age two, and as a toddler eagerly pressed her mother for more flash-card exercises. By age five she had become a Nancy Drew fan. Her precocious behavior led to the decision to utilize home education. "A lot of people think home school isn't as good as public school. But, obviously, it was at least as good for me," Crystal says.

For her undergraduate degree, Crystal plans to major in Physics and perhaps also Neuroscience. She has been accepted by several prestigious universities, but has not yet chosen where she will study full-time. She has expressed some interest in pursuing a graduate degree in medicine.

The Quaqua Society is proud to honor Crystal Senko as the college-bound student who has best demonstrated the excellence of home education in action during the past year. The Society anticipates that she will continue to make many important contributions to home education and the general society for years to come.


---
2003
---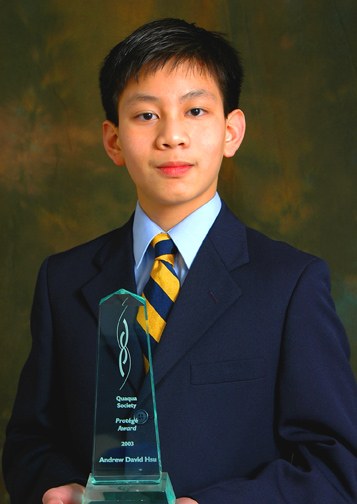 The 2003 Quaqua Protege is eleven-year-old Andrew David Hsu, a home-educated native of Issaquah (Seattle), Washington. His two parents, who are immigrants from Taiwan, teach all of their children at home.

Andrew became the youngest winner ever of a grand prize in the Washington State Science and Engineering Fair. He represented his state at The Intel International Science and Engineering Fair (Intel ISEF), the world's largest and most prestigious pre-college science fair, held in Cleveland, Ohio. The judges were so surprised by the graduate-college sophistication of the effort that they subjected Andrew to two rounds of unscheduled interviews to make sure that he had actually done the work himself.

His project was entitled Identification, Characterization, and DNA Sequencing of the Homo Sapiens and Mus Musculus COL20A1 Gene (Type XX Collagen) with Bioinformatics and Polymerase Chain Reaction (PCR). It also garnered Andrew the President's Award - Biology Excellence Award, United States Army Award, The Office of Naval Research Naval Science Award, Art Anderson Associates Special Merit Award in Engineering, and the Senior Division Award: Medicine and Health - First Place. Andrew presented his results at the annual meeting of the American Association for the Advancement of Science (AAAS). Press from around the world took notice.

Andrew describes his project as being "about a gene that I identified in the human and mouse genome called COL20A1, which encodes for the type XX collagen protein." To identify the genome, Andrew used bioinformatics, the process of searching computer databases and programs, and PCR, a laboratory procedure used to amplify targeted DNA sequences. Genes make proteins, and COL20A1 makes a type XX collagen which strengthens connective tissues, ligaments, bones, skin, and organs.

Andrew's interest in becoming a medical doctor and researcher intensified after his grandfather was confirmed to have Alzheimer's Disease. He hopes to find cures for devastating medical afflictions, possibly by first exploring diseases related to mutations in the type XX collagen. Andrew advocates the interdisciplinary approach to scientific research and problem-solving. He admires his father's blend of eastern and western philosophy, including ancient Chinese thought, and his "leading by doing" leadership style.

Andrew's preparation for a scientific career is solid. He studied mathematics and science with his parents, and utilized tutors for specialized English, French, and physical science instruction. He enrolled as a non-matriculated student in the University of Washington and completed Honors General Chemistry, Accelerated Honors Calculus, and Bioengineering Special Projects. His languages include English, French, and Chinese. He has a surprising amount of practical experience with mathematical modeling, computer programming, computer diagnosis, and advanced laboratory procedure, most of which is focused on university-level bioengineering and pathology.

As one might expect, Andrew scores well on standardized exams, achieving at above the 99th percentile on the American College Test (Composite Score 34), as well as score at the 99th percentile or above for the Iowa Test of Basic Skills and the Wechsler Individual Achievement Test. His education also has a classical component, including the study of Shakespeare's complete works, Chaucer's The Canterbury Tales, Edward Gibbon's The History of the Decline and Fall of the Roman Empire, the poems of Edgar Allen Poe, and Charles Dickens' David Copperfield. He also enjoys the English fantasy genre.

Swimming, an activity Andrew describes as the lab "science of hydrodynamics," is also a passion. He set nineteen team records at various age levels, took First Place in the 100 yard Butterfly for the 2004 West Coast All-Star Meet (which included California, Oregon, and Washington), and has always ranked in the top three in every Pacific Northwest Swimming event he has raced. Andrew has also won three gold medals and a silver medal in various triathlon races, and he enjoys rock-climbing and pottery-making.

Andrew also has a creative streak. He has helped his father, a software engineer who makes educational videos, write, direct, or edit various books, audio productions, video productions. Most of Andrew's work deals with short stories, poems, and vocabulary. He enjoys working with computers and producing DVDs.

Community service is also part of Andrew's repertoire. In addition to various service projects, he admires Medecins Sans Frontieres (Doctors Without Borders) and is interested in poverty-relief efforts for impoverished communities in East Asia and homeless populations in the United States. He has also expressed concern about pedophile exploitation of children in developing countries.

Andrew became a home-educated student after he skipped from first to third grade, but remained bored at school. His suggestion to other students is to 1) be resourceful, 2) find a subject that interests you, and work hard on it, 3) search for solutions when you run into barriers by persistently searching on the Internet, looking in the libraries, visiting the bookstores, asking your parents, contact mentors and teachers, and asking around for help, 4) be a pest with your pursuits, to the point where you make adults feel a bit uncomfortable, and 5) be humble.

Andrew says the best advice he ever heard was from his father. If you put fleas in a shallow container, they will rapidly jump out. But if you put a lid on the container for a short time, the fleas will hit the lid, learn to jump only so high, and give up the quest for freedom. After the lid is removed, the fleas will remain imprisoned by their own self-imposed limitations. So it is with life - most people let their own fears, or the impositions of others, imprison them in a world of low expectations.

Andrew certainly does not suffer from a lack of ambition. His goal is to become a full-time university student in the near future.

The Quaqua Society is proud to honor Andrew David Hsu as the college-bound student who has best demonstrated the excellence of home education in action during the past year. The Society anticipates that he will continue to make many important contributions to home education and the general society for years to come.


---
2002
---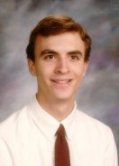 The 2002 Quaqua Protege is Benjamin Crowder of Orem, Utah.

Ben Crowder achieved a perfect American College Test score of 36—meaning that he achieved 36 on all four portions of the test as well as a composite mark of 36. In doing so, Ben ranked at the very top of all ACT takers.

Ben was admitted to Brigham Young University as a Gordon B. Hinckley Presidential Scholar, a prestigious full-tuition recognition bestowed upon only 50 students annually (BYU has around 28,000 students). After one year of study, he maintained a 3.97 grade point average. Currently he is taking a two-year hiatus from college to serve a mission in Thailand for the Church of Jesus Christ of Latter-Day Saints.

Although Ben did not participate as a full-time high-school student or obtain a formal high-school degree, he completed enough Advanced Placement credit to enter college as a sophomore. Some of his many extra-curricular accolades included Sterling Scholar in English, Editor of the Orem High School student newspaper, Utah State Spelling Bee Champion for 1996, and Youth Mayor for Orem City.

Ben avidly studied computer technology. Since age 8, he has taught himself to be an accomplished computer programmer, software tester, and web architect. In addition to working for companies such as BestScopes.com, NextPage, and Folio, Ben ran his own lucrative computer-consulting business. He also worked as a paid author and reviewer for the Linux Journal, a computer trade journal with a circulation of 60,000.

Ben's passions include piano, composing music, and studying foreign languages. He reads Latin, Coptic, Hebrew, and French, and speaks Thai. He fancies England and hopes to attend Oxford University for his graduate studies. His career ambition is to become a college professor of language, history, or philosophy.

In addition to his voracious intellectual drive, Ben is known for his affable, self-effacing personality. He has earned his Eagle Scout Award, participates in his religious community, and has volunteered time at home-education conventions to help other home-education graduates prepare for the standardized college admissions tests.

The Quaqua Society is proud to honor Ben as the college-bound student who has best demonstrated the excellence of home education in action during the past year. The Society anticipates that he will continue to make many important contributions to home education and the general society for years to come.

---
2001
---
The 2001 Quaqua Protege is George Abraham Thampy of Maryland Heights, Missouri.

Full Story Story & Photo During the summer of 2000 George electrified the nation by taking first place in the Scripps Howard National Spelling Bee and second place in the National Geographic Geography Bee (where he participated as Missouri State Geography Bee Champion). His unusual double play received widespread attention from the major news media outlets, particularly since two other home-educated students placed second and third behind George in the spelling bee. George's accomplishment helped to substantially increase the general public's awareness about the benefits of home education.

George has many other less-publicized achievements. He took first place in the St. Louis Chess Competition for the "9th Grade and Under" category, earned magna cum laude honors for a perfect score on the 2001-2001 National Latin Exam, and scored a 560 verbal and 510 mathematics on the SAT while in seventh grade. As a member of Boy Scout Troop 529, George has already achieved the rank of Life Scout and served as Assistant Senior Patrol Leader.

A Christian of Asian-Indian heritage, George has served as an usher, Sunday School teacher, and youth-group leader for the First Evangelical Free Church of Manchester, Missouri. After studying at home from kindergarten through eighth grade, George now attends the Westminster Christian Academy in St. Louis, Missouri. He was a participant of the Duke University Talent Identification Program, has attended college classes at Appalachian State University, and hopes to eventually complete a graduate degree in medicine.

In response to the Quaqua honor, George stated: "Thank you very much for an opportunity to represent home school students. I am very happy to receive the annual Quaqua award."

The Quaqua Society is proud to honor George as the college-bound student who has best demonstrated the excellence of home education in action during the past year. The Society anticipates that he will continue to make many important contributions to home education and the general society for years to come.


---